Why Us
Our Agency provides Top Shelf service as well as personalized individual attention to your business. We pride ourselves on being easy to reach, listening to your needs, explaining the implementation plan and the results. By communicating throughout the process we are able to see measured results that meet the expectations of our clients. The goal of Top Shelf is to help your business grow as efficiently as possible, allowing you to focus on your core business.
Our Process
We begin by meeting and discussing the services that best fit your business objectives and budget. Upon agreement, we will present a plan that we can start once approved. Our team will execute the campaign and track activity and results. We will continuously keep you updated, suggest and make optimizations as needed. By communicating this information expectations will be met.
Some words from our clients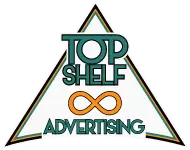 Top Shelf Advertising is a New Jersey Advertising Agency
We're made of idea generators with infinite creative solutions.